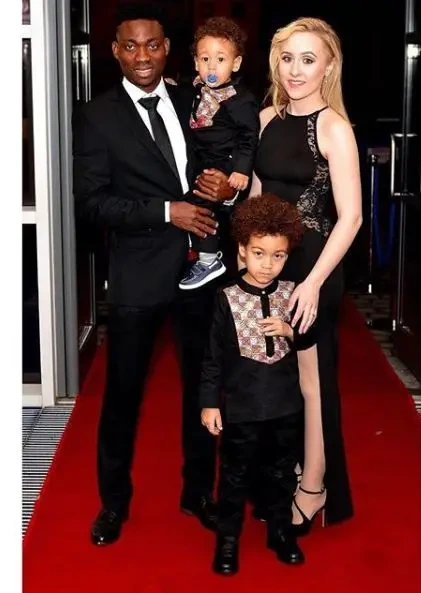 The wife of Christian Atsu reportedly published a book in 2021 titled "Stop Bullying Me" which became one of the most popular books on Amazon but it was reported that Atsu did not share or support his wife in her project.
However, the 12-year marriage of Atsu and his German wife, Marie-Clarie started deteriorating in the final stages of his contract at Newcastle.
When his mother-in-law moved in with them in the UK somewhere in 2021, Atsu's marital problems began. Atsu felt alone in the home as a result of the wife's increased focus on the mother. He sometimes found it challenging to play with his children because his mother-in-law has taken control of everything in the home," a source told GHANAsoccernet.com.
'Atsu was enraged to the core at this. So, in order for them to continue living their private lives, he instructed the wife to politely request that her mother relocates to Germany."
"His wife objected to the idea because she believed the player didn't want her mother to live with them, which is how their marital issues began".
"Atsu was fervently looking for a new club at that time because he only had two months left on his contract with Newcastle."
The source also added: "At this point, a well-known Ghanaian football agent managed to get him a club in Turkey, but the player was not interested in working there.
"Atsu then moved to Saudi Arabia and signed for Al Raed after failing to find a club in Europe. Due to a long-standing disagreement [with the wife] before he left for Saudi Arabia, the wife then used his absence to push for a divorce.
"He took the decision to return to Ghana due to injuries and a dip in form in Saudi Arabia. He considered hanging up his boots but before that, he had plans to play for his boyhood team, Hearts of Oak, even if only for a season."
'He decided to change his career plans at that point and also needed money to fund a ton of unfinished projects in Ghana.
'He then made the decision to put off his plans to don the Rainbow jersey in order to sign a lucrative new deal with another European team.
'Hatayaspor was his only choice and so decided to relocate to Turkey. Remember that before moving to Saudi Arabia, he turned down a rich offer from an unknown Turkish club because he wanted to spend his final years with Hearts of Oak."
'If the divorce proceeding hadn't begun, Atsu would have returned to Ghana and be playing in the Ghana Premier League."
Ashantibiz