The court threw out the GH¢25 million defamation suit against Agyapong on grounds that it lacked merit and that the allegations against Anas by Ken Agypong were founded on facts
But Anas said in a statement shortly after the ruling that it contained flaws that work against the administration of justice in Ghana
Anas Aremeyaw Anas has responded to the unfavourable ruling delivered by a high court judge on his defamation suit against Assin Central MP Kennedy Agyapong
In a statement issued by his firm Tiger Eye PI shortly after the ruling read in court on Wednesday, March 15, 2023, by Justice Eric Baah, the popular investigative journalist pointed out flaws he said work against justice delivery in Ghana.
"The court established that Mr. Agyapong indeed defamed Anas but in a bizarre twist concluded that the so-called documentary "Who Watches the Watchman" was an absolute justification, thereby absolving Mr. Agyapong of any liability," portions of the statement said.
The statement also said it was curious that Kennedy Agyapong arrived in court in the company of Kwesi Nyantakyi who he [Anas] exposed with his famous investigative documentary on corruption in the administration of football in Ghana.
The statement by Tiger Eye PI, however, said Anas remains resolute in the fight against corruption in Ghana despite the ruling by the high court.
Anas and his team also feel the ruling was flawed because Ken Agyapong alleged in his documentary that Anas was a murderer although he could not prove that allegation in the documentary.
"There is absolutely nothing contained in the said documentary which alludes to the commission of murder or an allegation of the commission of murder by Mr. Anas," the statement added.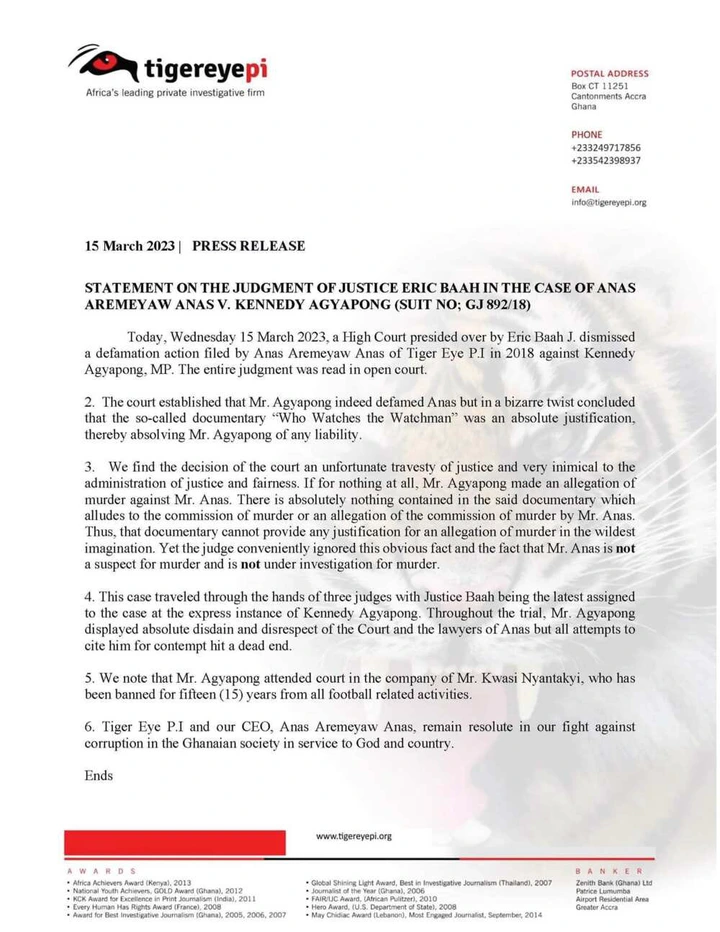 Anas' defamation case against Ken Agyapong dismissed
The high court on Wednesday, March 15, 2023, threw out the defamation suit filed by Anas Aremeyaw Anas against the maverick politician, Kennedy Agyapong.
The case was filed in 2018 after Agyapong produced his famous "Who Watches the Watchman" documentary to counter Anas' journalist practices.
Anas was demanding GH¢25 million in aggravated damages from Ken Agyapong for calling him a murderer and evil in that documentary, but the court presided over by Justice Eric Baah ruled on Wednesday, March 15, 2023, that Anas' case had no merit.
He also berated Anas and his Tiger Eye PI team for practising investigative "terrorism" and not "investigative journalism".
Ashantibiz