Once involved in peacekeeping efforts in war-hit countries, General Abdourahmane Tchiani has now triggered a major crisis in West Africa by staging a coup in Niger.
Low-profile and hitherto little known outside his immediate circle, he was the commander of Niger's presidential guard until he emerged from the shadows to overthrow the man he was charged with protecting, President Mohamed Bazoum.
Gen Tchiani declared himself the head of the National Council for the Safeguard of the Homeland, the military junta set up after he seized power on 26 July.
Meanwhile, his former boss languishes under house arrest. Mr Bazoum has been in sporadic telephone contact with international leaders but he is otherwise isolated.
Gen Tchiani has, so far, rejected all suggestions of compromise. He has kept most international envoys at bay, but gave an audience to Nigeria's ex-central bank governor and former Emir of Kano, Muhammadu Sanusi, on Wednesday.
US Deputy Secretary of State Victoria Nuland, visiting Niger on Monday, was unable to secure an audience with the 62-year-old general.
A delegation from the Economic Community of West African States (Ecowas) got no further than the airport.
A planned second joint mission by Ecowas, African Union (AU) and United Nations (UN) envoys, scheduled for Wednesday, was postponed after the junta said it was not the right time to meet them.
Gen Tchiani is certainly living up to his reputation as stubborn and taciturn.
He was not at the huge rally the junta organised in Niger's capital Niamey on Sunday. He has only appeared on TV on three occasions since the coup, and has spoken twice – once to present himself as Niger's new leader and once to make an Independence Day address.
That is perhaps in part because even he does not really know where this crisis goes next.
Will Ecowas, to whose good governance and democracy protocol Niger is a signatory, really launch a military intervention, as it has threatened to do?
Or will the West African bloc wait for sanctions to gradually do their work in ratcheting up pressure on the junta, particularly as there is significant political opposition to the military option in Nigeria and some other Ecowas states?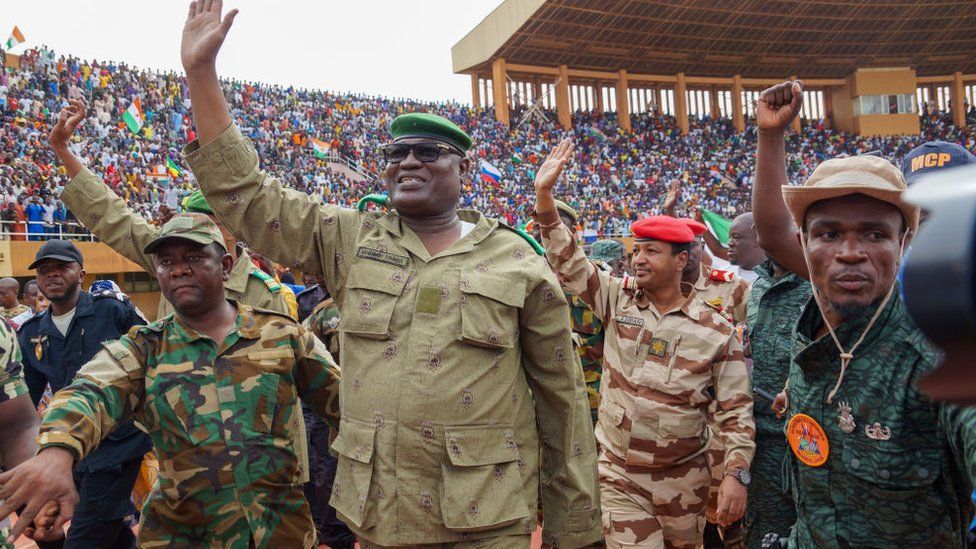 The bloc's current chairman, Nigeria's President Bola Tinubu, has now reiterated his preference for the diplomatic path and a further indication of how he and his colleagues are thinking may emerge after their latest summit in Abuja on Thursday.
Faced with these uncertainties, and encouraged by the success of fellow coup leaders in Mali, Burkina Faso and Guinea in weathering regional pressure, it seems that Gen Tchiani has for the moment decided to hunker down and play the long game.
His junta has announced the appointment of a prime minister, former finance minister and African Development Bank official Ali Mahaman Lamine Zeini – signalling its ambitions to establish a prolonged political transition.
Some analysts have wondered whether the overthrow of Mr Bazoum, who is from the minority Arab community, might open up ethnic tensions in Niger. However, a strong sense of cross-cultural cohesion and national identity has always been a distinctive strength of modern Niger.
A former Tuareg rebel and senior minister, Rhissa ag Boula, has now launched a "Council of Resistance" to restore Mr Bazoum to office and is presenting this in firmly national terms. And so far there is no sign of the junta venturing down a divisive sectarian path.
However, Gen Tchiani is not above taking big risks of a different kind. The decision to detain Mr Bazoum and stage the coup was itself a pretty high-stakes gamble. Had it failed, it is the general himself who would now be in a jail cell.
And the decisions to publicly denounce longstanding defence accords with former colonial power France and, reportedly seek the assistance of controversial Russian mercenary outfit Wagner, were sure to further antagonise Ecowas and Western governments, even if they play well with anti-Bazoum crowds in Niamey.
Over the course of his almost 40-year career, Gen Tchiani has been trained at military academies in Senegal, France, Morocco, Mali and the US.
UN peacekeeping operations in Ivory Coast, Sudan's Darfur region and the Democratic Republic of Congo
An Ecowas force in Ivory Coast and
The Multinational Joint Task Force in which troops from Niger, Chad, Nigeria and Cameroon collaborate in the campaign against militant Islamist group Boko Haram.
So it is ironic that he now risks military confrontation with Ecowas by ignoring its ultimatum to hand back power to Mr Bazoum.
Gen Tchiani has also been posted to a range of command roles in Niger itself, although not actually in the campaign against the jihadist groups now presenting such a grave threat to his own country and neighbouring Mali, Burkina Faso and Benin in the central Sahel.
But two things stand out from his long military career.
Until his promotion to take charge of the presidential guard in 2011, neither abroad nor at home had he occupied roles at the top level of command that require working closely with civilian government leaders and international partners in shaping strategy and addressing awkward political, social and diplomatic trade-offs.
The 62-year-old has always been very much a "soldiers' soldier", assigned to specific military tasks rather than the broader defence and security picture.
Even after being placed in charge of the presidential guard by Mr Bazoum's predecessor, Mahamadou Issoufou, he kept his views to himself, speaking little.
He was not part of the broader public or political discussion over the best way to tackle the jihadist violence and occasional local inter-communal tensions that have posed such challenges over recent years.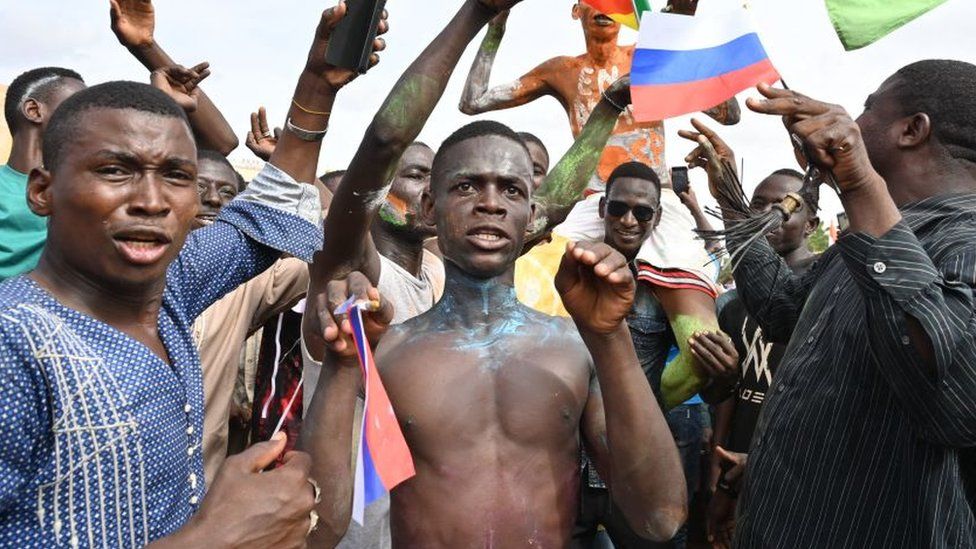 Closely trusted but rarely heard, he seems to have been an intensely private figure, in some ways not even that well-known to the presidents who entrusted themselves to his protection.
It was known that his relations with Mr Bazoum, a longstanding ally of Mr Issoufou, were more distant and in recent weeks there were rumours that the president was preparing to force him into retirement.
Perhaps personal resentments had accumulated, unexpressed but still powerful.
Removal from his post, even at a fairly normal age for retirement, would certainly have come as a painful blow for a man who over four decades has gradually climbed the promotion ladder, after starting out as an ordinary soldier.
Gen Tchiani is from the majority Hausa ethnic group and comes from Tillabéri region, a traditional recruiting ground for the military.
Yet he is not from the typical officer corps background or with obvious political connections. He has had to work his way up from the base.
Mr Bazoum is also someone who came from a fairly modest background and then gradually climbed the educational and career ladder, in his case at university and then as a secondary school teacher and trade unionist, before going into politics in the early 1990s.
But curiously, Gen Tchiani never really established a comfortable working relationship with Mr Bazoum – whereas he seems to have got along more easily with Mr Issoufou.
Now of course, after so many years out of the public eye, Gen Tchiani finds himself on a crash course in political and diplomatic crisis management.
So far he has relied on what has served him best over the long years in the military: restraint, a cautious reluctance to fully speak his mind before others, and a refusal to compromise.
But Gen Tchiani and the junta have cleverly touched a chord of anti-French resentment among many Nigériens and they will try to turn this into a wider base of support and defiant popular backing for the confrontation with Ecowas.
And as this testing face-off against Nigeria and other members of the West African bloc plays out over the coming days, and sanctions bite ever harder, driving up the cost of living for ordinary people, these newfound populist and political skills will be ever more critical as the general plays the highest-stakes gamble of a previously careful career.
Paul Melly is a consulting fellow with the Africa Programme at Chatham House in London.
BBC