"The Ampayoo Community is out of danger. The head, undercarriage, parts of the gas bulk tank, a nearby uncompleted building and surrounding vegetation suffered considerable fire damage", the Ashanti Regional Fire Command said in a statement.
"The Ashanti Regional Fire Commander, ACFO I Henry Fatai Giwah and officials of NADMO were at the scene to ascertain the extent of damage caused by the accident". What happened?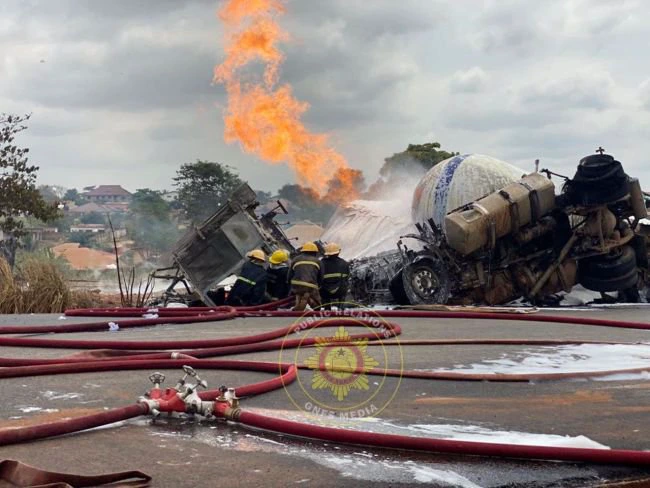 Public relations officer for the Ashanti Regional Fire Service, DO III Peter Addai told Asaase News  that  the Service received a distress call at about 10:30 am on Thursday. Firefighters were quickly deployed to the scene to battle the blaze.
"Around 10:35 this morning, we had a distress call reporting a fire at Sokoban-Ampayoo. We quickly rushed here, and when we got here, the tanker was on fire. We had to mobilise three more tenders to join the one here to manage the situation. We hope to manage and quench the fire," said Adai.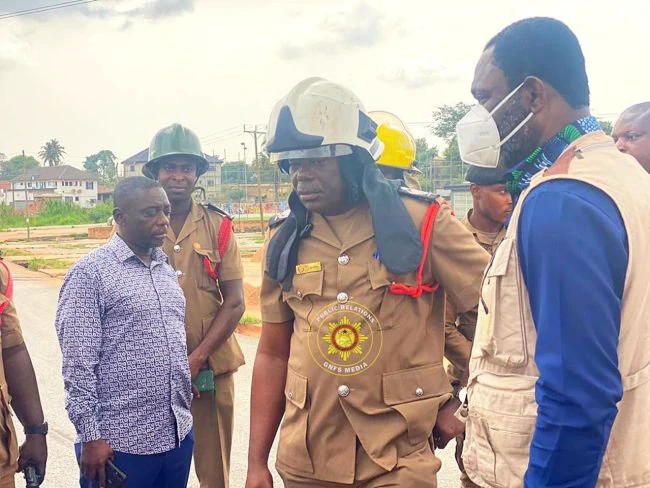 "The driver and his mate were initially trapped, but they were rescued and taken to the Asafo Agyei Hospital. There was no sign of injury when we rescued them but they had to be sent to the hospital as a matter of caution," he added.
Fire at police headquarters In another development, at least three fire engines battled a blaze which nearly razed part of one of the buildings at the police headquarters in Accra on Thursday.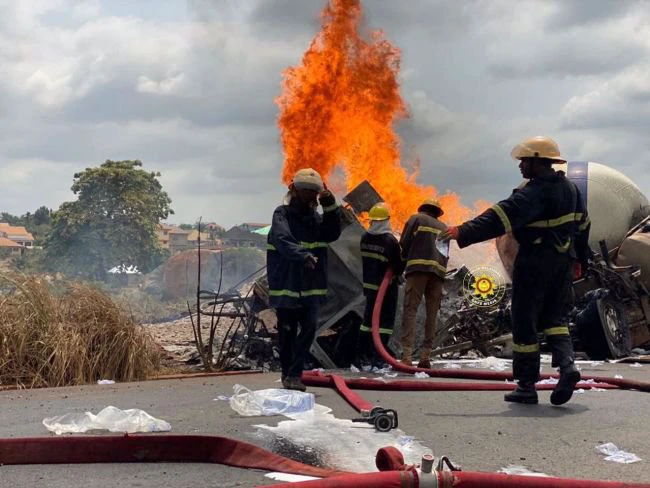 A statement issued by the Ghana Police Service said no casualties were recorded in the inferno.
The chief fire officer, Julius Aalebkure Kuunuor and top police chiefs were at the scene were at the fire scene to ensure successful incident management which led to the salvaging of other adjoining rooms to the only one room on the entire affected structure. The cause of the fire incidents remains under investigation.
Ashantibiz